Kristen Jordan, Executive Director
Kristen has worked in the hotel and hospitality industry since 1996.  She brings significant experience in the service industry encompassing 5 hotel openings, multi property and as a full-service general manager.   Achievements included the Hospitality Impact Award (2013), Sales Director of the Year (2011) and the President's Award (2008).   Kristen holds a Bachelor of Science degree in Hotel Administration from the University of Nevada, Las Vegas (UNLV).  She also has her certification in Hotel Industry Analytics (CHIA) from the American Hotel & Lodging Educational Institute.  She is excited to apply her expertise in resident, customer and team member satisfaction. 
Kristen and her husband, Bill, have lived in Houston for 6 years.  Previously, Kristen was raised in Ohio and has also lived in Venezuela, Virginia, Florida and New York.   Kristen is the proud mother of 2 adult daughters, Melissa and Angelica, as well as a chocolate lab named Brownie and a Plott Hound mix named Dallas.    Bill and Kristen volunteer their time with Mile High Lab Mission in Colorado and Rescued Pets Movement in Houston.  Kristen supports Mile High as a Foster Coordinator ensuring pets get to their fur-ever home.  
Debbie Jenkins-Melancon, Assistant Executive Director
Debbie is the Assistant Executive Director at The Village of River Oaks. Debbie is responsible for making sure that each Assisted Living and Memory Care resident is receiving the optimum level of care, engagement, and compassion. Debbie enjoys calling the Assisted Living and Memory Care area as the "wild side" because all the fun happens there.
Debbie and her husband Larry are proud parents to daughter Avery. She is a proud Louisiana native and enjoys playing softball in her free time.
Monica Romero, Business Office Manager
Monica is responsible for overseeing the general administration of the human resource and accounting control systems, functions and procedures for the property. In addition, Monica leads a team of concierge and driver professionals to ensure resident satisfaction.
Monica is married and has two beautiful children, Carlos and Erika.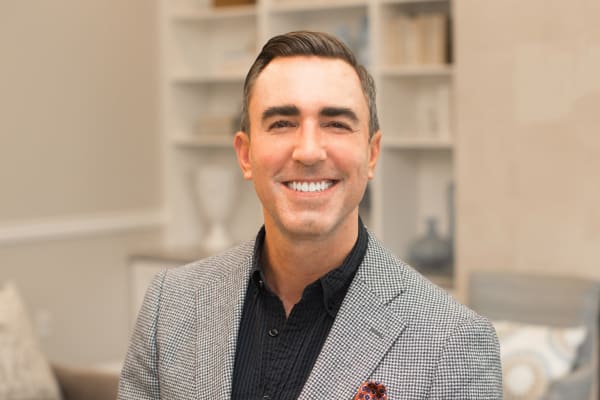 Ted Bowen, Director of Sales & Marketing
A veteran of the Hospitality industry, Ted serves as Director of Sales and Marketing for The Village of River Oaks. In his role, Ted works with families and prospective residents to find the perfect home to get the most out of their Senior Living transition. By being a great listener, Ted is able to get the appropriate feedback to identify each resident's unique care level and paint the picture of living in our premiere luxury community.  
A seventh-generation Texan, Ted held previous Sales and Marketing roles with Houston First Corporation at the George R. Brown Convention Center and Visit Houston (Greater Houston Convention & Visitors Bureau) and Marriott Marquis Houston. His unique background helps him always think differently, developing meaningful relationships and putting a creative spin on tours to our beautiful and unique community. Bowen is an active participant in the city and has a passion and interest in what makes our location unique.
Felizciana (Fifi) Archibold, Director of Business Development
Felizciana Archibold is the Director of Business Development at The Village of River Oaks.  Felizciana is responsible for developing new and maintaining professional business to business relationships through daily outreach in the Houston community.  Part of her role includes serving the community and local organizations, as well networking with local businesses and care partners.  Felizciana is very positive, and enthusiastic about representing The Village of River Oaks by sharing with others how we Live Life Well!  Felizciana has over 20 years of experience working in the geriatric care and retirement industry. 
In her free time, Fifi enjoys volunteering, her hobby as a disc jockey, and roller skating.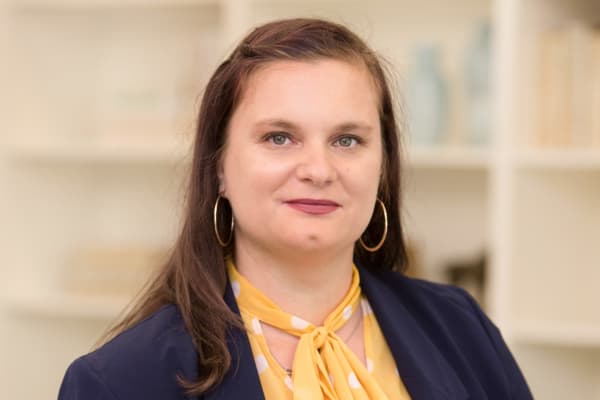 Katie Snezhkova, Director of Life Enrichment
Katie Snezhkova is the Director of Life Enrichment at The Village of River Oaks. Katie and her team are responsible for planning, organizing, and directing individual and group programs for our wonderful residents, making sure they have a variety of programs to keep them engaged and living their best lives. Katie has been in the senior living industry for over 20 years in different capacities and as a Life Enrichment Director for 14 years. She moved to Texas from Chicago six years ago and has made Houston her new home. Katie has three furry ones, Emma (cat), Patches (cat), and Missy, who visits the residents regularly as a certified therapy dog. Her second passion is animal rescue. She is involved in several local organizations and has fostered over 70 dogs.
Jequita Thompson, LPN/LVN, Director of Resident Care
Jequita Thompson is a LPN/LVN in geriatrics with a clinical backing. Geriatrics is her passion and she has 13 years of experience ranging from LTC, skilled, assisted/memory care.  Starting as CNA, caring for her grandmother with Alzheimer's, her passion for the elderly has grown over the years of her career.  She strives to learn and work aside those with the same passion for the elderly. 
In her spare time she loves to volunteer with various non-profit organizations. She is excited to be a part of the great care team within the RCM community.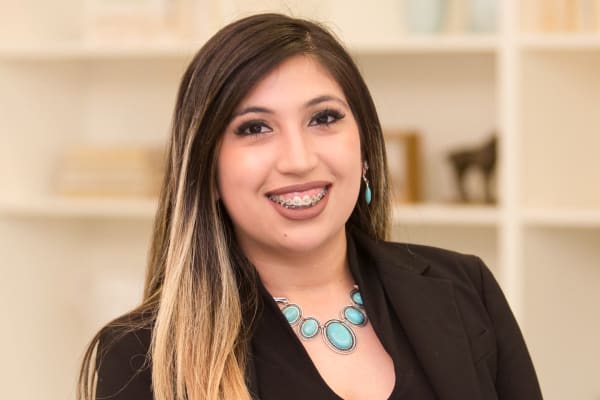 Zzamantha Esparza, Assistant Director of Resident Care
Zzamantha Esparza is the Assistant Director of Resident Care at The Village of River Oaks. She provides leadership for our memory care community to promote their health and wellness and is their number one advocate. Zzamantha's everyday goal is to make a difference in your loved one's life. Zzamantha is a mother to her son, Mason, and continues to further her education in nursing. Zzamantha has her AAS degree from San Jacinto Community College.
Carlos Guevara, Director of Plant Operations
Carlos manages daily facility operations and provides supervision of any maintenance staff and housekeeping.  He has been in Senior Living since 2007 and holds a Basic Firefighter Certificate and is HVAC certified. 
Carlos is married with two young children.  In his spare time, he enjoys hunting and is a fixer upper at home.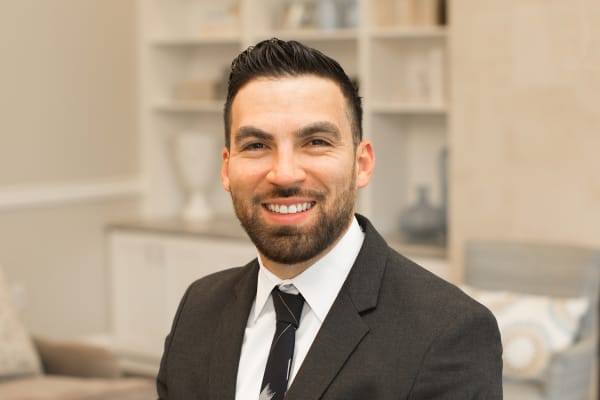 Victor Moreno, Director of Dining Services
Victor plans and supervises activities of Dining Services to provide service for residents, employees and guests.  He is a graduate of University of Houston's Conrad N. Hilton College of Hotel and Restaurant Management.  He comes to us from Hotel Zaza where he was Director of Food and Beverage, Banquet Manager and Housekeeping Manager.  Victor was born and raised in Monterrey, Nuevo León México. He enjoys spending time with his wife, kids and doing a lot of outdoor activities. Victor is blessed to be a father of 4 kids, Sebastian, Alessandro, Luna & Alicia.
In his spare time, he is a soccer coach, and he really enjoys the opportunity to share some of his knowledge with the kids. He loves coffee and wine, especially Pinot Noirs and Zinfandels.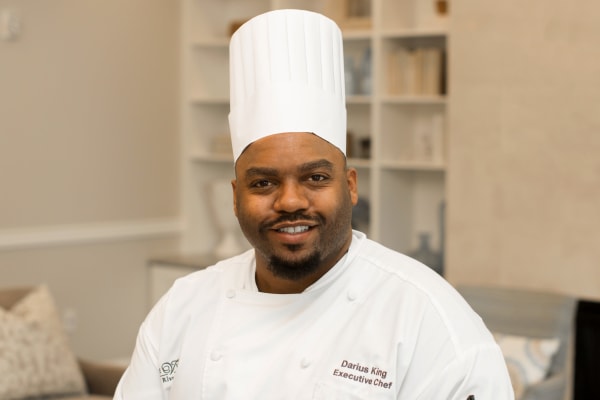 Darius King, Executive Chef
Chef Darius is responsible for all food production including resident meals, activities and marketing events.  He has had a passion for cooking since he was nine years old due to his fond memories of watching his Mom make her famous salmon croquettes for Sunday Brunch.  His love for cooking has grown over the years and he has experience in a variety of styles from food trucks to hotel dining and banquet events to fine dining restaurants. 
In his spare time, he enjoys spending time with his family and cooking his specialties for friends.
Live Life Well®
Our community is managed by Retirement Center Management (RCM) which is privately-held and based in Houston, Texas. RCM was founded in 1996 and is known for the exceptional quality of life and gracious living experience enabling all its residents to Live Life Well®. Today, RCM manages twenty-two communities around Texas, Arkansas, and Oklahoma.